Are we there yet?
Seemed like every day (actually, it was every day) Barbara, our neighbor who worked in the offices across the street, you know, the ones on the second level, whose darkened windows face our front door, would drop by and ask, "Are you ready yet?"
"Well, we still have to put another coat of stain on the bar top, but soon!" we'd say.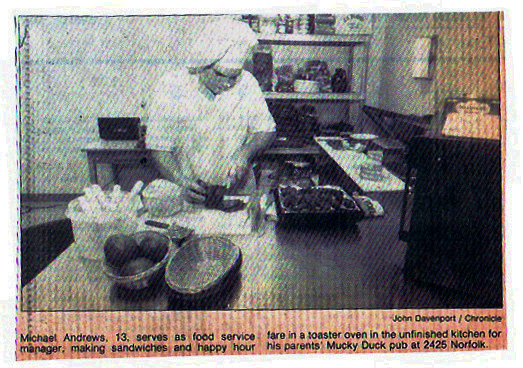 (whom we fondly dubbed "Scout") would stop by the next day,
"How's that bar top?" said she.
"Needs another coat." said we.
We were so close and yet so far from being ready to open. The bar top could use a few more coats, the wainscoting was not yet finished and we were still going to auction every night trying to pick up some necessities, like tables and chairs.
One afternoon, while we were busy staining and painting in walked Joe Trumble. Joe had been one of our happy hour "regulars" at the Red Lion on Main Street. Joe and his friends were UT Med students and had made the Lion their home away from home.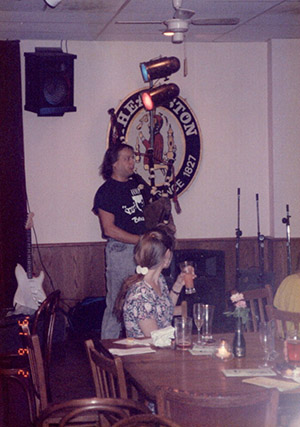 would all head over to the Lion after one or another of their grueling exams and have a few beers and chow down on the Lion's famous happy hour buffet.
Joe and his buddies were soon to be graduating from Med school and Joe had heard it through the grapevine that we were opening our own place.  So Joe made his way to the Duck to let us know that he and his classmates wanted to hold their graduation party at the Duck.
As we stood in our half finished pub, with barely two dozen chairs and maybe four tables, I tried to explain to Joe that we were honored that they thought of us, but that we weren't ready yet. There was silence.
After quiet moment of observation, Joe pointed to the Guinness tap marker behind the bar. "Does that mean that you have beer?" says he. "Well yes, yes we do." says I.
"Do you have a permit to sell it?" says he.
"Well yes, we do." says I.
As the answers came out of my mouth, I realized that some things were meant to be.
"Our Graduation finishes around 6pm Saturday and we will be here at 7" he said, smiling as he walked out the door.
The next morning Scout was peeking in the door. "I saw that you had company last night." said she.  I explained that we had known Joe for years and he was planning on bringing his crew over after Med School graduation in a few days.
"Hmm, we'll be over after work today. See you at 5!" said she.
And so, ready or not, we were about to be "open."
Hey guys look what found, our very first calendar of music.  July 1990.

(more to come……)